rom London to Canterbury: The Pilgrims' Route
Chaucer's pilgrims set out from Southwark, a neighbourhood of London, on their way to Canterbury. As they travel along, we are occasionally told the names of places they have passed. The map below is a rough representation of their route. The places are clickable; each click will open a new window with some details about the places along the route.
Return to 346 Syllabus Page
Return to 346 Home Page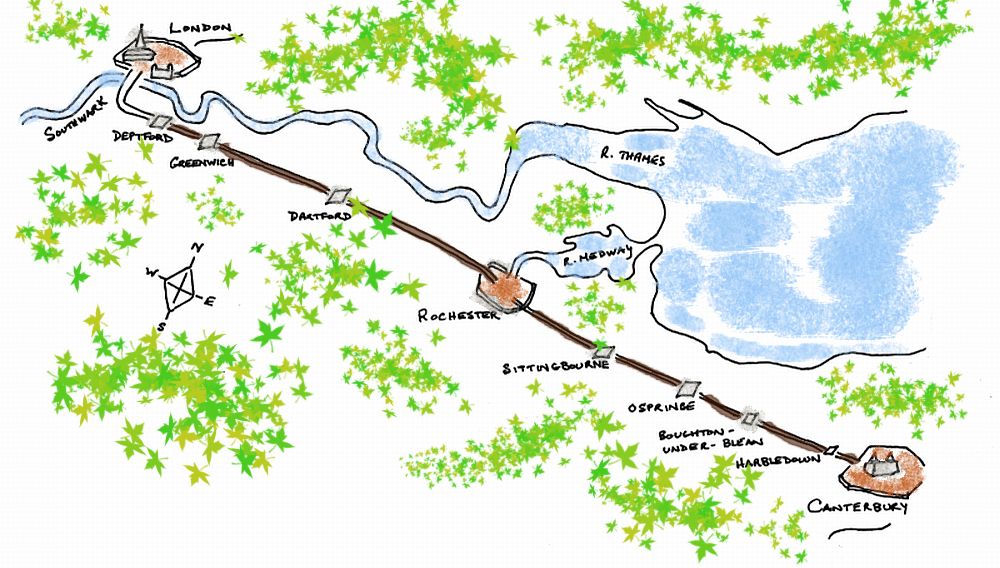 The Gough Map is a 14th-century map of England. You can see images of the map in the Bodleian Library's map display case. There is also an interactive version of the map as part of the Mapping the Realm project.
Another famous English map is the Hereford Mappa Mundi, a representation of the whole world (you will recall the reference to a mappamounde in Chaucer's poem to Rosemounde).
There are many annotated images of medieval maps at the site Early Medieval Maps, and the most comprehensive catalogue of mapping booksmarks on the web, Odden's Bookmarks, includes many links to maps relevant to medieval studies.